Paris is always a good idea. Despite the saddening attacks that took place in Paris earlier this month, I want to celebrate this beautiful city instead of fearing it. My hope is that this post inspires you to travel to Paris, whether it's now or in the near future.
The Flight
I may travel for a living but it's rarely as glamorous as it looks. In fact, the one time I flew business class on an international flight was this past August and that's due to my husband using all of his air miles to get me the upgrade. So, when Air France invited me to experience the business class cabin en route to Paris, there was no hesitation. I had a few free days in my calendar and as I said before…Paris is always a good idea.
Ironically, I only slept a few hours on my flights to and from Paris. Why? Well, because I was so excited about the in-flight dining, wine list and entertainment system. Air France has teamed up with François Adamski among other Michelin-starred chefs to promote fine French cuisine around the world. I felt a little like "The Prince and the Pauper" because I'm rarely treated this well on flights. Since I don't normally travel this way, every little thing surprised me…much unlike my seat-mates who I assume are used to the special attention.
The picture below is an image of the new business class seats that Air France is slowly rolling out on various international routes. From SFO, we had the standard business class seats that are very nice, albeit not as much of a cocoon as the ones pictured. It did have a lie-flat bed, though, and plenty of leg room to walk around. The only main difference is that the new models allow for more privacy. Everything, from the gourmet cuisine to the Champagne served in mini flutes, is top-notch.
The Main Event
I wasn't going to Paris for any old reason…although I have and recommend it. Air France was about to unveil a very special collaboration with local artist JonOne. Hailing from Harlem, JonOne has been living in Paris for more than 20 years and considers it his home. While many of my fellow journalists in attendance were self-proclaimed aviation geeks, I'm much more of an adoring art fan. Put the two and two together, and well…there's magic!
As far as I know, this is the first time an airline has partnered with a street artist before. While I don't get worked up about movie stars, I do get little goosebumps whenever I'm around fashion designers or artists. They inspire me and I have to admit that I was a tad nervous to speak with JonOne directly. Any trepidation faded the moment he shook our hands. He is so open, so friendly and most of all, so passionate about Paris and about art. I could tell that it was such a special moment for him and that he knew and appreciated what a game changer this partnership is for the art and aviation industries.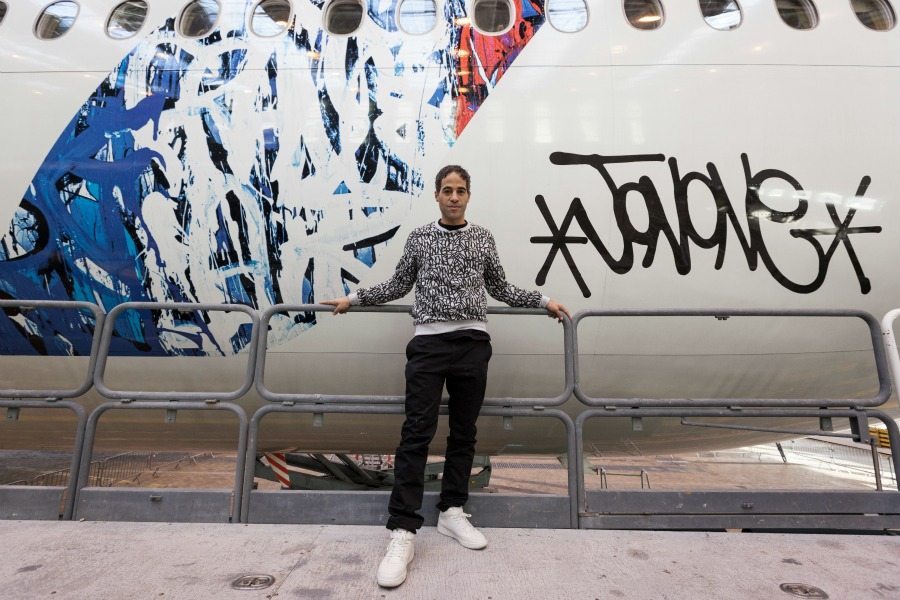 The Takeoff
So what inspired this revamping of Air France's classic red "l'accent" logo? JonOne explained that he came up with the design after a tragedy struck Paris (not unlike what ended up happening a few days later) and that he was so impressed by how the community came together. That, and his love for motion (he used to graffiti on trains as a kid and then watch the colors dance when the train moved) served as his two main inspirations.
As part of the celebration, the plane flew for the first time to none other than New York. JonOne was on board so I can only image what an experience that must have been. He started making art on trains and now his creation is flying high in the skies. I'm happy for him and happy that I was able to be part of such a great innovation. In 2016 this very Boeing 777 will fly to specific destinations around the world. Coming to a city near you!
The Hotel
This might sound strange but as a travel writer, it's a luxury to stay at one hotel for more than two nights and the Hilton Paris Opera Hotel was kind enough to host me for three. Since Hilton is a huge brand, I wasn't sure what to expect in terms of decor, as some locations look identical to others from the inside. Not in Paris, apparently! Every chandelier, painting and plush chair was effortlessly elegant. From the moment I stepped through the doors, I knew I was in Paris and it's that "sense of place" that travelers like me crave.
The hotel recently celebrated its 125 anniversary, which is quite an achievement. That said, I really like that they are constantly innovating. Their recent renovations are impressive to say the least and yet, the decor is still very iconic and elegant. As a Hilton HHonors member, I had access to the executive lounge that serves breakfast in the morning, snacks throughout the day and wines and small plates by night. Even though I was in Paris, I still had to catch up on emails so it was nice to have a change of scenery and peer at the passerby below.
My room was spacious and comfortable and I especially appreciated the heated black and white tiled floors in the bathroom. I had a view that faced the street and although the windows are secured for safety precautions, I was still able to open them a little bit to feel the cool breeze outside. Below is a professional shot of the room but it's literally identical to the one I stayed in and turned out far better than the one I snapped with my own camera.
The Sights
What didn't I do in Paris is the better question! After the Air France / JonOne event, I had two days to explore Paris on my own. I've been here before so I didn't feel the normal pressure of seeing the famous monuments and visiting the iconic museums. I tend to be a travel-overachiever in new cities. Instead, I strolled aimlessly for hours without ever getting tired. It's funny how Paris can do that to you. Maybe that is why everyone is so fit. 🙂
One of the highlights was getting to meet up with fellow travel blogger and Paris resident Leah of LeahTravels. Oddly enough, I was in Paris around this time last year and we repeated our jaunt through Montmartre. Leah was living there and knew all the secret spots and best viewpoints. There's something about Montmartre that makes me feel at easy. Maybe it's the cobbled streets or the window displays that always draw me inside. There's something though…and it steals my heart every time.
What's your favorite airline and why? Tell me in the comments below!
This post is in collaboration with Air France. The Hilton Paris Opera Hotel hosted me during my stay. All opinions are my own. 
Like me on Facebook and Tweet me: @BohemianTrails.
Sign up for my free monthly BOHO BLAST!