One of my favorite ways to tour a new city is by delving into the art scene. For some cities, that might mean paying a visit (or two) to a famous museum while other destinations might take me to the street to view innovative graffiti and politically-driven murals. Fashion is also an art, as is music and I enjoy learning about these aspects just as much as I do traditional artwork. Here are ten cities that are definitely ideal for the art connoisseur.
1)  New York (especially Brooklyn)
Maybe I'm bias, but I happen to think that New York, and Brooklyn in particular, is arguably the best city for art. In fact, any time a reader asks me for tips on where to go and what to see, I really have to get a better sense of what they're looking for because New York's art scene isn't something you can tackle in a weekend, let alone an entire month. For museums with an architectural build that rivals the masterpieces inside, I highly recommend The Guggenheim. For fans of street art, head straight to Brooklyn's Bushwick neighborhood to view artwork from The Bushwick Collective. In Queens, the Socrates Sculpture Garden is a must.
2) Paris
Ah, Paris! Where do I even begin? Similar to New York, Paris offers a wide range of art, thus allowing travelers to take their pick. Although the Louvre is almost always crowded, it's still spectacular. Even the building itself is a work of art. Musée d'Orsay is another impressive museum scenically located on the left bank of the Seine. Exhibits here display artwork from the period 1848 to 1914. On my most recent trip to Paris, I waited in a two-hour line (because I went on a free entrance day unbeknownst to me) to the Musée Picasso and it was simply amazing. Museums aside, just stroll around Paris, taking in the perfectly manicured gardens.
3) San Francisco
Having recently moved to the San Francisco Bay Area, I've been slowly exploring the street art scene. The photo below is one mural that I photographed in Clarion Alley in the revamped Mission District, where mural upon mural completely adorn every inch of available wall space. For more traditional artwork, there are some great options like the Asian Art Museum of San Francisco, the San Francisco Museum of Modern Art (SFMOMA) and the de Young Museum. There's even a Cartoon Art Museum which I still need to visit. Come to think of it, museum-hopping might be the best way to tour San Francisco for great panoramic views.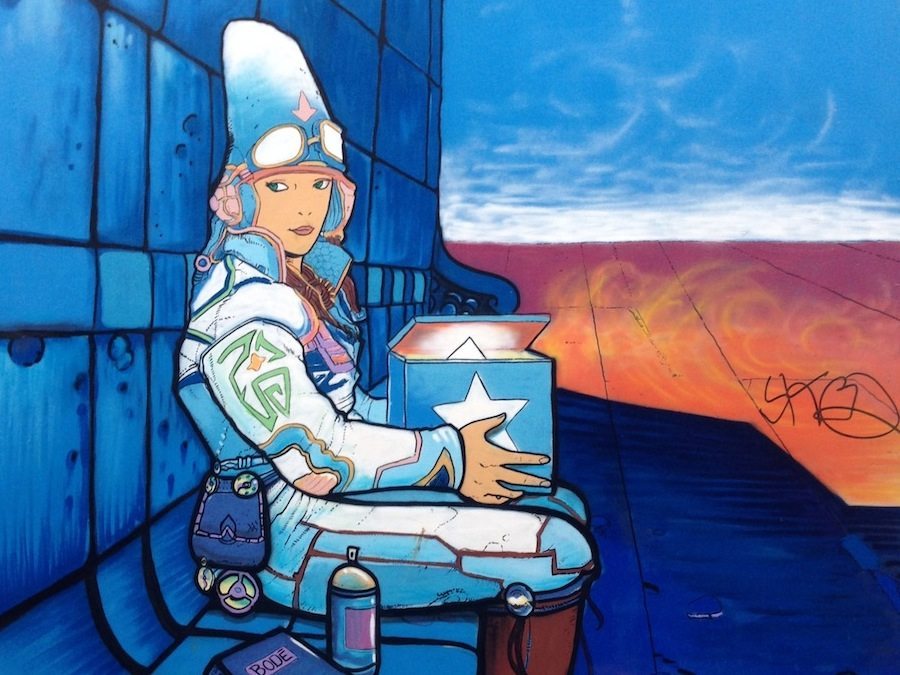 4) London
London was my home for six months in college, during my semester studying and working abroad. The city quickly grew on me and I was soon on the hunt for quirky wares. In my opinion, London has some of the best outdoor markets in Europe. Head to Old Spitalfields Market for local designer clothing, Portobello Road Market for rare antiques and Camden Market to channel your inner goth (or to just shop for literally anything). London also has a fare share of impressive art museums like the V&A and the National Gallery. Fashion-forward travelers will gravitate toward the Design Museum that showcases industrial architecture, design and graphics.
5) Berlin
Berlin is still in a tie with Paris for my favorite city of all time. As different as these two cities are, they do have a lot in common when it comes to artistic expression. If Paris is the posh older sister, then Berlin is like the misbehaved little brother who loves experimenting and often gets into a bit of trouble. Street art is amazing here, especially in the Mitte, Kreuzberg and Friedrichshain neighborhoods. The city is constantly changing and it's fun to feel part of the action. Even the architecture is in constant flux. Although the Berlin Wall is no longer a barrier between east and west, you can still see the start differences in terms of building design and urban plotting.
6) Bogotá
Although most of the cities on my list are in Europe, South America has some very art-friendly destinations as well. Perhaps the city that surprised me the most was Bogotá, Colombia. During my brief stint living in the city, I spent a few days wandering through the old neighborhood called La Candelaria. Location-wise, this neighborhood has it all. There are a slew of art museums to choose from, my top pick being the Botero Museum. When you've reached your attention-span limit, which is usually after two hours in a museum for me, hit the streets for vibrant street art at just about every corner. Many are politically-charged and/or give insight into the local culture.
7) Vienna
Many of Austria's cities are ideal for the art connoisseur but perhaps none more than Vienna. I visited Austria's capital about two years ago and after three days hopping from one museum to another, I still didn't have time to see and do it all. I suppose that is to be expected though, considering how many attractions cater to creatives. Head to the Museum Quarter for a one-stop-shop for several different museums including The Architekturzentrum Wien for architecture, the Kunsthalle Wien for contemporary art and The Leopold Museum for Viennese masterpieces. There is also a cool display of graffiti along the Danube Canal, along with several fun nightlife venues.
8) Portland
Portland is weird and rightfully so. My time in Portland was way too short and I can't wait to return and continue exploring the city's hip neighborhoods. Portland is best explored on foot or by bike and you really never know what you'll find. The Alberta Arts District is a great starting point. Here you'll spot everything from colorful street art (pictured below) to quirky designer boutiques. This is not your typical shopping spot. Instead of picking up everyday items, you'll find things you didn't even know you needed like eco-friendly, vegan shoes. There are great galleries here as well, like the Monograph Bookweks, HiiH Gallery and Guardino Gallery.
9) New Orleans
Similar to Portland, New Orleans has a very distinct art appeal. Famous for it's French-style architecture and its lively nightlife scene along Bourbon Street, the city also has quite the art scene. The Ogden Museum of Southern Art, The Historic New Orleans Collection (THNOC) and the New Orleans Museum of Art (NOMA) are all noteworthy museums and don't forget to swing by the "Before I die" installation. (more on that here). By far the main highlight of my trip to New Orleans was a visit to Frenchman Art Market, open nearly every evening and surrounded by live music venues and dive bars. It's a great snapshot of what all the talented local artists are creating.
10) Kyoto
Compared to Tokyo, Kyoto comes across as much more traditional but there's a lot going on in terms of contemporary and modern art. Many of the designers of today are blending old traditions of yesterday with new innovations and techniques of today. Kimonos are effortlessly classic but they are also being reinvented to appeal to a new generation. The design scene is just as remarkable. Bridging the gap between old and new, artists that are part of Japan Handmade, a cooperative of Kyoto-based craft artists, are constantly breaking the boundaries of traditional Japanese crafts and yet, their creations are still effortlessly Japanese in design aesthetic.
What is your favorite city for art? Tell me in the comments below!
This post is in collaboration with Expedia TRIP. All opinions are my own. 
Like me on Facebook and Tweet me: @BohemianTrails.
Sign up for my free monthly BOHO BLAST!