Now that we've covered Lisbon's gritty yet glamorous side, let's turn our attention to the city's unique mix of old and new design influences. Perhaps the most visual representation of this is the range of architectural styles used on many of the city's most noteworthy buildings. Lisbon is a rather large city and there are three main touristic areas: Parque das Nações in the north, Barrio Alto in the south and the Belém District. I'll be covering each area in this article, starting with Barrio Alto and Chiado. Shown below is one of the neighorhood's historic squares.
Lisbon is a city of many hills so you'll get plenty of exercise during your stay. Besides a reliable metro, there is a tram system and a few elevators that make the steep inclines bearable. I snapped this photo while waiting for one of these elevators and there in the distance is The Castle of São Jorge. For first-time travelers, I recommend breaking your day into two parts. Maybe spend the morning in the north and after lunch head downtown for a few museum visits. Many of Lisbon's top attractions are located in one of the three areas mentioned in this guide and if you plan it right, you can see them all.
Featuring Moorish architecture (my personal favorite!) this fortified citadel dates back to the medieval period. Once within the castle walls, there's quite a lot to see and do. We opted to walk around on our own rather than taking a guided but those are offered daily. Due to the earthquake of 1755, most of the castle was destroyed but I still found it pretty easy to imagine what life might have been like hundreds of years ago. The grounds are rather spacious, so definitely plan a few hours to visit the castle in its entirety. Views from the top are unbeatable and well-worth the hike.
For upscale shops, head to Avenida da Liberdade. Built in the 19th century in the same style of the Champs-Elysees, it's the main avenue in Lisbon. It's about a mile in total and extends from Restauradores to Marquês de Pombal Square and is 300 feet wide. On either side of the avenue there are luxury boutiques and 5-star hotels in addition to a few outdoor bars and plenty of small gardens, trees, fountains and statues. Pictured below is the Monument to the Heroes of the Great War, constructed as a sign of respect for the 50,000 Portuguese soldiers who died during WWI.
Known as Lisbon's cultural center, Barrio Alto is just as much of a shopping mecca as it is a popular nightlife spot. Dating back to the 16th century, it almost feels like you've stepped back in time. Despite the hustle and bustle of city life, Barrio Alto and Chiado still have a bohemian atmosphere and if you wander past the main drag, this becomes more and more obvious. Straight ahead is an outdoor plaza with restaurants (we watched a World Cup match at one of these) and an access point to the water. There's even a little beach area to dip your toes in the sand and surf.
We made it to the Belém District on our last day in town and it turned out to be quite the adventure. Having mastered our Segway skills in Indy, we decided to rent them for an hour to see all the monuments along the shore. The Monument to the Discoveries shown below was unveiled in 1960 in horn or the 500 year anniversary of Prince Henry the Navigator's death. It celebrates the Age of Discovery that took place during the 15th and 16th centuries. From afar, the monument is extremely striking but there's no comparison to seeing it up close. The real beauty is in the details.
A short distance away is Belém Tower, another symbol of the Age of Discovery. Built in 1515 in the Manueline style, this fortress is pretty enough for any fairy tale. There are different sculptures depicting historical figures like St. Vincent and various discoveries on the time. Having already worked on other Portuguese fortifications in Morocco, architect Francisco de Arruda incorporated some Moorish-style watchtowers into his design. A statue of Our Lady of Safe Homecoming was included to symbolize protection for sailors. We opted not to enter the tower but it is open to the public.
I wasn't expecting to like the Parque das Nações area as much as I did. A mix of residential apartments, office buildings and outdoor public spaces, this neighborhood has emerged as Lisbon's main innovation hub. After being chosen as the location for the 1998 World Exposition, many of these changes were implemented in the 1990s. One of the coolest aspects of this area are the cable cars that glide through the air above the Promenade.  Other highlights include the Lisbon Oceanarium, the Vasco de Gama Tower, the waterfall at the Nations' Park and Torre São Gabriel.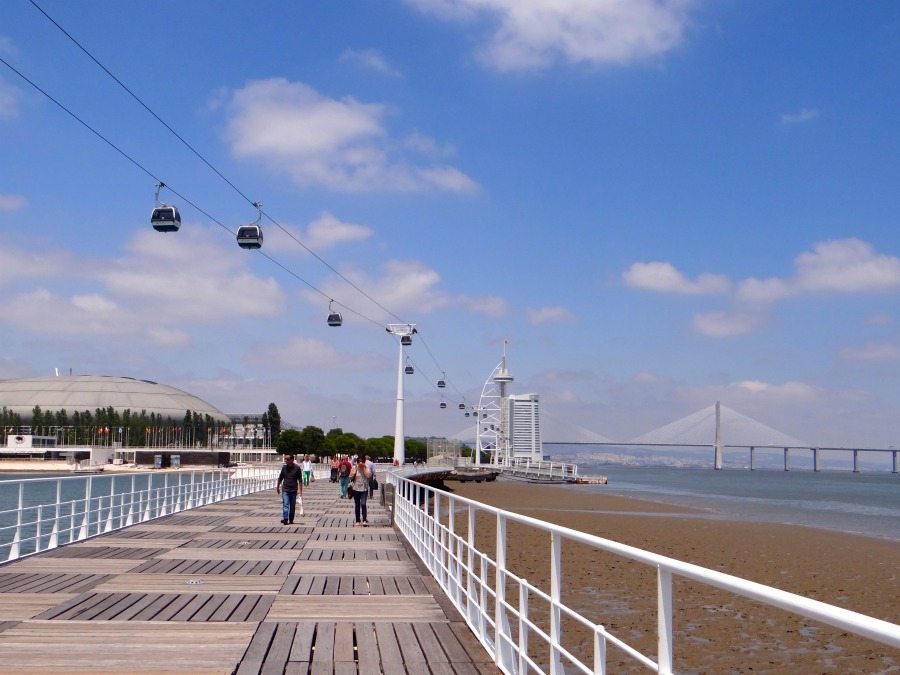 What's your favorite city for architecture? Tell me in the comments below!
My airfare and accommodations were on behalf of Visit Portugal. All opinions are my own. 
Like me on Facebook and Tweet me: @BohemianTrails
Sign up for my free monthly BOHO BLAST!