After spending about two weeks in Santiago, Chile, I quickly got a feel for the different neighborhoods that make this South American city so fascinating. Although I didn't know too much about Santiago before arriving in Chile, I was very pleased to learn that the city is actually quite ideal for a bohemian. The first thing you will notice about Santiago is how different each neighborhood is, which is made clear by the varying examples of architecture of the buildings.
Here are my favorite neighborhoods in Santiago, Chile:
Lastarria
This hipster and bohemian-worthy neighborhood was my home in Santiago. Two steps from my apartment door led me to a street filled with coffee shops, restaurants and local street venders trying to sell their products. My first night in Lastarria I met a very intoxicated poet named Homer who somehow convinced me to buy a copy of his book (I don't even know Spanish). Located in Lastarria is the Santa Lucia, which easily became my favorite view of Santiago and ideal writing spot. Both the Museo Arqueológico de Santiago and the Museo de Artes Visuales are located in Lastarria and if you head to the nearby neighborhood of Bellas Artes you can visit the Museo de Bellas Artes and Parque Forestal.
Brasil
While Lastarria often gets the reputation for being hipster-central, Brasil is where the real bohemians live. Years ago, this neighborhood attracted the rich men and women of Sanitago who moved here to gain a bit of distance from the "common folk". In more recent years, however, Brasil has become a hot-spot for the young and trendy. Many universities also set up campuses here, so Brasil residents tend to be either young and broke students or elderly couples who have lived here for years. When we walked through Brasil, the streets were quiet but the graffiti and quirky restaurants brought a lot of color to the neighborhood.
Bellavista
Instead of showing you an array of street art photos I took while wandering the streets of Bellavista, I'll leave you with this video of some very excited youngins' partying for apparently no reason at all. During the day, Bellavista is a quiet neighborhood full of color and cleanliness. It's even home to the second of famous poet Pable Neruda's three houses in Chile. Once the sun sets, however, Bellavista becomes party central with countless bars, dance clubs and restaurants.
El Golf
The modern El Golf neighborhood is as close to Miami as you can get. With skyscrapers, chic restaurants and recognizable chains like Starbucks and Applebees, it's easy to forget that you are in Chile. Any given street in El Golf could fit in perfectly in many U.S. cities. Why are there so many "American" chain restaurants around? Well, as the business capital of Santiago, this is the place where internationals come during their work trips to Chile.
Providencia
For natives of Los Angeles, Providencia may remind you of Rodeo Drive. The Alameda is the city's main boulevard that runs through Central Santiago. It eventually turns into Avenida Providencia which is where Providencia officially begins. Here you will find upscale shops, elegant styled buildings, and several luxury hotels.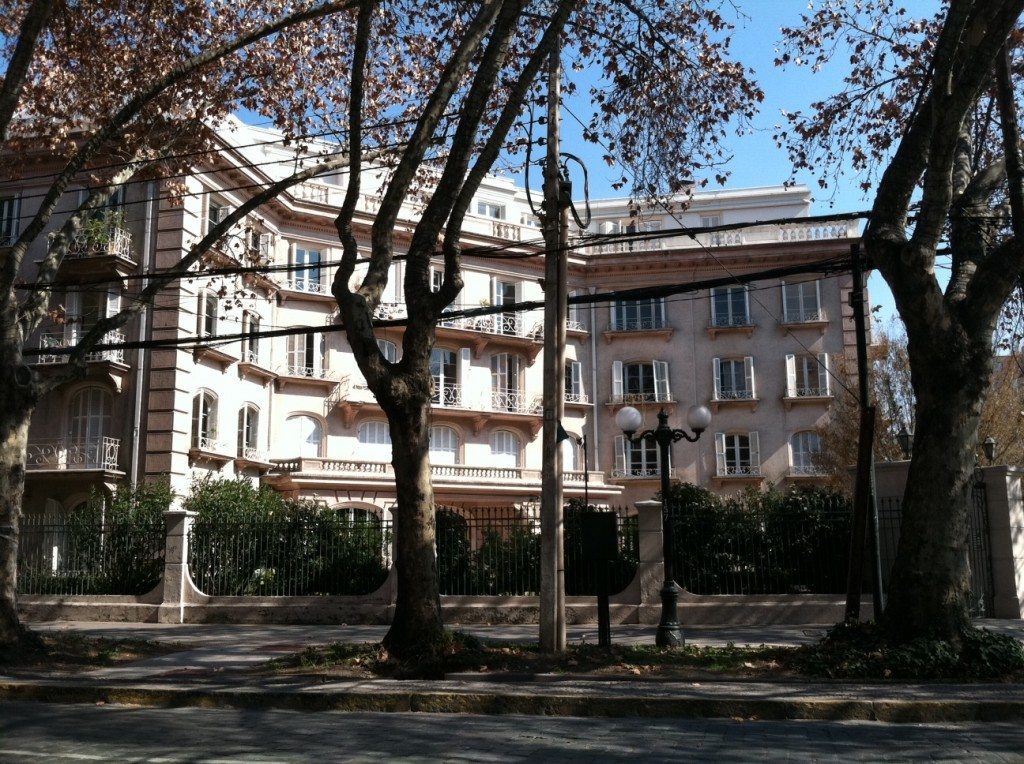 Like me on Facebook and Tweet me: @BohemianTrails
Sign up for my free monthly BOHO BLAST!