Winter is in full swing, which means that there's still time to plan that weekend getaway. An east-coaster from birth and having lived in New York for seven years, the Caribbean remains my go-to winter destination. In many cases, you'll find direct flights (or nearly direct) and within a few hours, you are on a white sand beach sitting pretty with a cocktail in hand.
I've rounded up 5 of my favorite Caribbean islands to escape to this winter, including a unique experience in each. For more inspiration, Beaches is a good starting point.
Barbados
I had the absolute best time in Barbados. When I wasn't lounging at my resort, sipping cocktails by the beach or jumping on a water trampoline, I was swimming. Swimming with turtles to be exact. The island os well-known for their sea turtle population and I had the chance to see them up close—note, this was in their natural environment and not at an attraction of sorts. The tour also included stops at two different shipwrecks, which had me feeling all sorts of Rose Dawson.
Anguilla
I didn't expect to love Anguilla as much as I did and to this day, it remains one of my favorite Caribbean islands. My most magical memory included a sunset sailing excursion, complete with a Champagne toast, a full dinner spread and bottomless wine and beer. I met so many special people on that small boat; many of whom I'm still in touch with today. The best part was getting to take in the view from the front of the boat.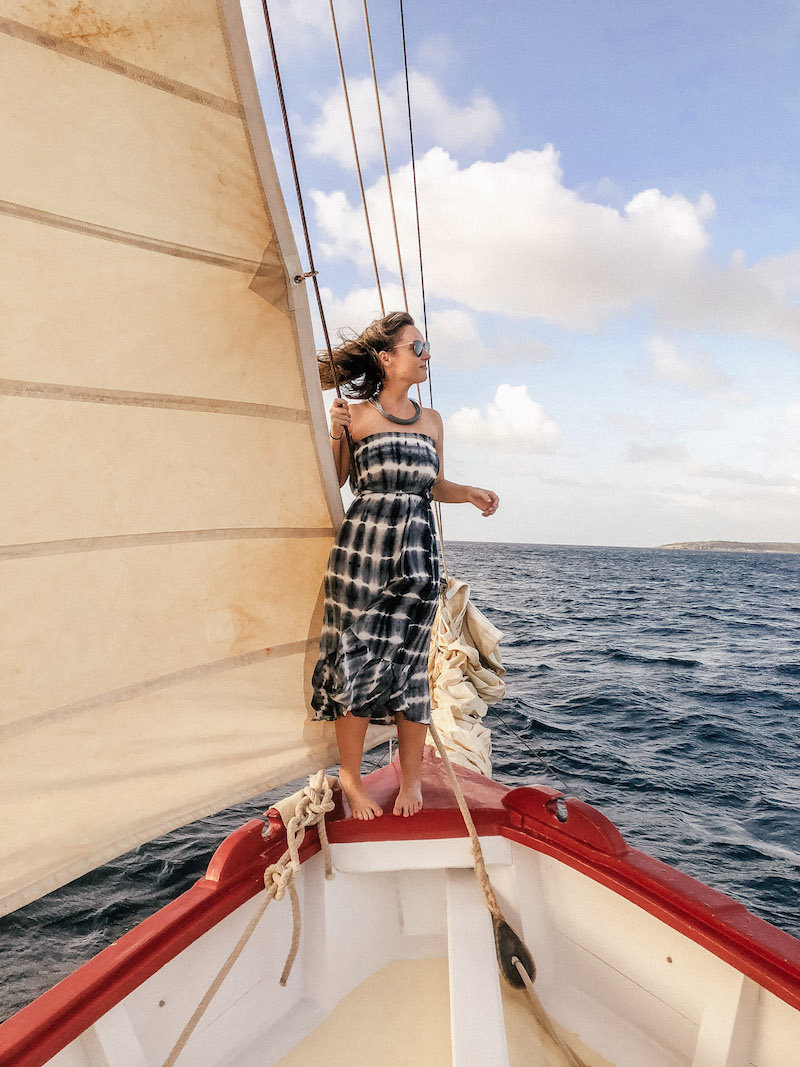 Turks and Caicos
When I think about my long weekend in the Turks and Caicos, I think of total relaxation. There are some trips where I really go all out in terms of activities but here, I decided to take it easy. My trip was filled with indulgent dinners, a rejuvenating visit to the spa and catching up on emails while I sat ocean-side and sipping a coconut with a straw. If you're looking for a more active itinerary, there is no shortage of water and land sports to choose from.
The Bahamas
There's no wrong time to tour the Bahamas, and that's why it's making this list. Winter is of course an ideal time. In my case, my trip overlapped with Junkaroo, so I had the chance to participate in Carnival. I loved seeing all the colorful costumes and more so, learning how intricate the designs are and just how many hours go into creating one to completion. Festivals aside, I loved laying lazily on the beach, shaded under a large palm tree.
Aruba
Aruba was one of the first Caribbean islands I visited and for that reason, I think it will always have a special place in my heart. Our group did all sorts of activities: snorkeling in clear blue waters, Yoga SUP, and even Aruba's version of tennis. I also made sure to take time to slow down and appreciate the mere beauty of this place. Sunsets here are gorgeous as are the warm-hearted people who call it hope.
For more suggestions of islands to visit, here's a fun infographic from Beaches. 
This post is in collaboration with Beaches. All opinions are my own.