One of the most rewarding parts of travel is meeting new friends along the way. Starting in Dresden and later making my way to Leipzig, Nuremberg and Frankfurt, here are my favorite new and quite unexpected bohemian friends from Germany.
Angry Teddy
My visit to Dresden happened to coincide with the Stadtteilfest (borough festival) "Bunte Republik Neustadt". Adding an extra layer of unique flair to the otherwise laid-back and serene city, the festival seemed to bring in people….and animals from all over Germany. I'm a huge fan of stuffed animals so I made sure to take a photo of this not so little angry bear. I must say, he sure knows how to ride in style.
Pots and Pans
While I'm by no means a pro in the kitchen, I put my culinary skills to the test during a dinner at Dresden 1900. After several glasses of local wine, I put my cooking face on and prepared a very traditional dessert, "Dresdner Quarkkeulchen". The dish is primarily potato quark pancakes served alongside apple kompot (or applesauce for a simpler solution) and fresh fruit.
Pinocchio
During a walking tour of Leipzig, a city rich in music and art history, I happened to stumble upon my old friend Pinocchio quietly sitting on a bench. Although I try my best to steer clear from long-nosed liars, I just could not resist snapping a photo with my childhood buddy. Leipzig has a lot of classic style toyshops like the one where I spotted Pinocchio.
Nutcracker
In Nuremberg, I found another old-time friend, Mr. Nutcracker. Germany has many decoration shops like this one where you can pick up a nutcracker or cuckoo clocks, especially in the southern region around the Black Forest. When I was a little girl I used to sit in front of our television and watch The Nutcracker over and over again became convinced that my real name was Marie.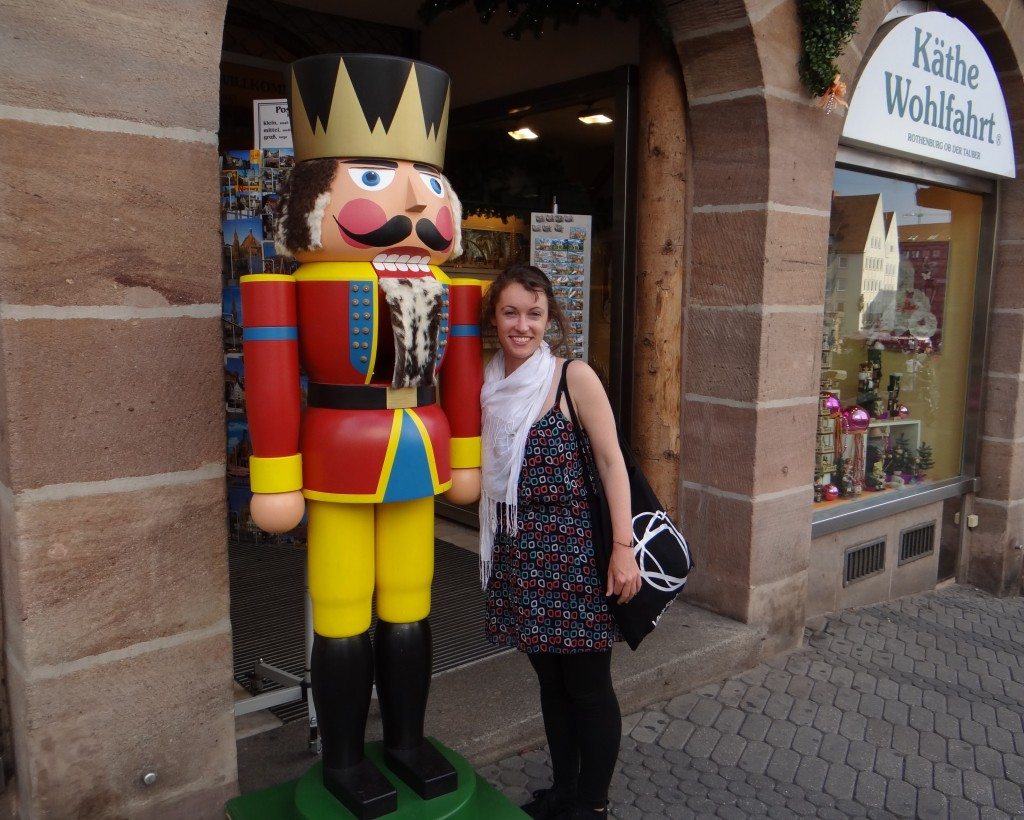 Regal Statues
Also while in Nuremberg, I found myself mesmerized by all of the lively statues I was seeing throughout the city. I found many of these in the other cities we visited but these two particular statues stood out to me the most. Nuremberg's city center is best explored by foot because there are so many medieval architectural details on every church, building and cobble-stoned street.
Like us on Facebook and Tweet us: @BohemianTrails
Sign up for our free monthly BOHO BLAST!