I found Kyoto very manageable, especially compared to a larger city like Tokyo. I spent three days exploring the different neighborhoods, sampling local food and people-watching whenever my legs needed a break. Kyoto has a good number of neighborhoods and just like other cities like New York and London, each feels different and appeals to a different crowd. I didn't get to visit all of them, but here are a few of my favorites. One thing to note is that the first four are actually in the city center and the rest are located within the outskirts.
Nishijin District
This was the very first neighborhood I visited and easily my favorite. The area is very quiet compared to Kyoto Station and Gion and that's just one of the charming things about it. The Nishijin District is also coined the Weaving district because there are many clothing factories here. The architecture is also pretty impressive, with well preserved streets lined with wooden buildings dating back 100 years.
There are a few really cool places to visit in the Nishijin District. HOSOO is a super innovative textile company, showroom and factory featuring designers that are taking traditional materials and turning them into high-end, modern interior design items. They suggest making an appointment before showing up but it's well-worth the trip. To catch a free kimono fashion show and do a bit of shopping, head to the Nishijin Textile Center. If you're craving a snack, try one of the delicious treats at Aishin-do.
Shinkyogoku Shopping District
If you've saved all your shopping time for Kyoto, that's a wise choice. This district is the most popular place to shop for just about anything. On Shinkyogoku Street you'll find quirky souvenirs, some of which might have you scratching your head out of confusion, but memorable nonetheless. A stroll down Teramachi Street brings you to a more refined shopping area, one with art galleries, fashion stores and bookshops. If you visit the Imperial Palace, I recommend walking south along Teramachi Street and you'll see the stores shift from boutiques to more consumer brands.
Then there is Nishiki Market which is bustling with locals picking up their evening groceries and tourists sampling traditional food. The market runs between Teramachi and Shinmachi and is one block north of Shijo. I actually started here and then made my way to the department stores and other boutiques nearby. From here, you can cross the river via the bridge and you are in Gion.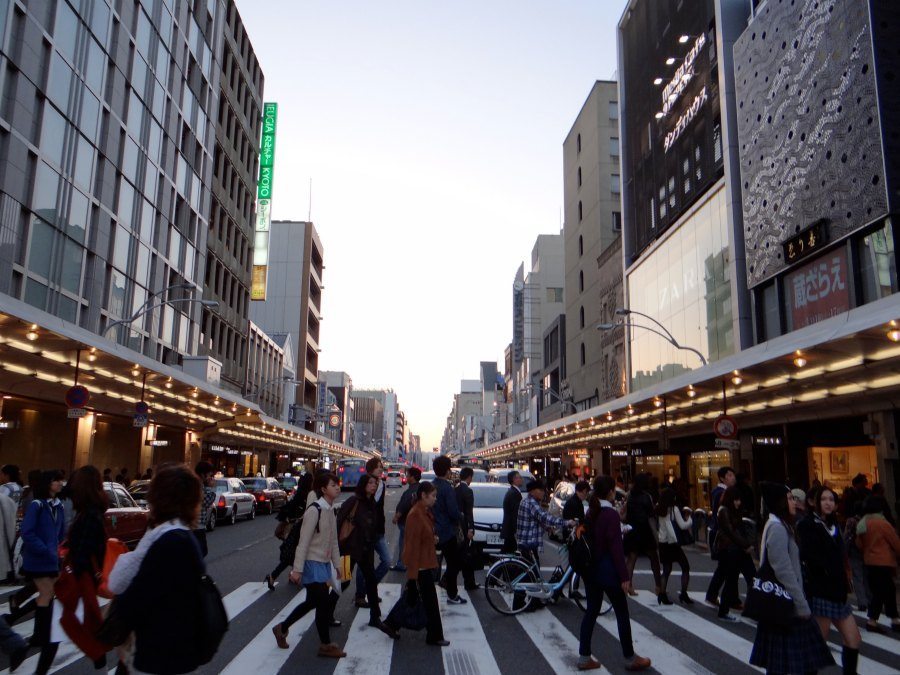 Gion District
Gion is located on the eastern side of the river and is perhaps the most famous of Kyoto's neighborhoods. This is one of the main Geisha districts and tourists are always showing up here in the evening hours to catch a glimpse of the elusive Geikos and Maikos. (Geisha and Geishas-in-training). I signed up for a Geisha-themed walking tour on my first night in town and really learned a lot about the area. Although we only spotted one Maika, it was thrilling to discover where the most notorious teahouses are located and other fun facts about the district's fascinating history.
It's surprising how quiet it is here compared to Shinkyogoku. You literally turn a corner and it feels like you are in a private backyard or something. Considering how popular Gion is with tourists, it's nice to see that the neighborhood has remained much of its mysterious allure. Many of Gion's streets are designed for pedestrians which definitely cuts out the traffic noises you'll hear in Shinkyogoku.
Northern Kyoto
On my last day in Kyoto I ventured to the northern part of Kyoto to visit a few of the temples there. Due to a bad rain storm I never made it all the way to the Kinkakuji (Temple of the Golden Pavilion), but I did tour through Ninnaji Temple and Ryoanji Temple. Other religious sites include the Daitokuji and Enryakuji temples and the hot springs at Kurama. Walking through the grounds is completely free but there is a small fee to actually tour the inside of the temples. In my opinion, this view of was well worth the 500 yen (about $5 US).
Similar to other areas in Kyoto's outskirts, you can easily spend an entire day here or just a few hours depending on your interest and time constraints. I walked from Ninnaji to Ryoanji and there are several local restaurants along the way in case you get hungry. I started my day in Arashiyama and then took the Keifuku Railways, which is a local tram-like train, to Omuro Ninnaji Station.
Southern Kyoto
Fushimi Inari Shrine is the main shrine of Inari and one of Kyoto's biggest touristic attractions. Inari is the god of rice and while the main shrine was built in 1499, the earliest structures date back to 711. While the name might allude to a singular shrine, there are about 32,000 sub-shrines housed here as well and if you want to reach the top of the mountain, bring a water bottle. The main sub-shrines are all located along the path and there are also trails that lead off in different directions in case you need a break from the crowds.
The journey takes about five minutes via train if departing from Kyoto Station but the grounds can easily consume an entire day. I arrived here around 9am on a Saturday and was able to beat most of the crowd. I would have preferred to get there even earlier for a more peaceful and reflective experience, not to mention better photos. I spent about three hours in total but at certain points I felt rushed.
Western Kyoto District
One of the main attractions in this area is Arashiyama, which is a quick and inexpensive train ride from Kyoto Station. The Togetsukyo Bridge is the most well known landmark and is especially popular during the fall season and when the cherry blossoms bloom each spring. If you have time, rent bikes and explore the area at your own pace. Alternatively, you could take a Hozu River Boat Tour or hitch a ride on the Sagano Scenic Railway. History buffs should dedicate time in Saga-Toriimoto Preserved Street, which features architecture from the Meiji Period (1868-1912).
Some people spend the whole day here wandering through the vibrant bamboo groves, the many temples and other points of interest while others get their fill after a few hours. It's a good idea to pick and choose what temples you want to see because they require a small entrance fee for admission and after awhile that really starts to add up. From the top of Jojakkoji Temple you have a great view of downtown Kyoto.
This trip was hosted by the Kyoto Convention Bureau. All opinions are my own. 
Like me on Facebook and Tweet me: @BohemianTrails
Sign up for my free monthly BOHO BLAST!