This past weekend I headed to Coronado Island to watch one of my best friends marry her best friend. It was my first time attending an outdoor wedding and the views of the bay hinted that I was on a tropical island somewhere, rather than across the country in California. Although I did check my emails occasionally, it was much easier to disconnect than I expected. Although our weekend getaway only lasted a few days, I left feeling refreshed, rejuvenated and ready to tackle the week.
I had been to Coronado once before, about six years ago, during my last year of college. My life has changed quite a bit since then but I was happy to find that the island hadn't. Sometimes memories have a way of amplifying over time, so much that you'll visit a place a second time and won't even recognize it. Luckily, Coronado Island looked and felt the same as it did years before. I revisited many of the iconic sights and strolled along the beach as if I had nothing better to do…then again, I can't really think of anything more enjoyable than this.
Inspired by Coronado's laid-back atmosphere and regal appeal, I decided to team up with Berricle to curate a few of their jewelry pieces that best represent Coronado Island. For me, Berricle isn't just another jewelry company; it's one that I've followed for the past two years. Not only do I find their designs unique in terms of aesthetics and craftsmanship, but many of their items are inspired by marine mammals and sea life.
Anchor Pendant
Berricle's Anchor Pendant (pictured above and below) was my personal favorite of their sea life-inspired necklaces so I decided to wear this piece not only in Coronado but during our day trip to La Jolla, another boho-chic beach along the San Diego Coast.
For those unfamiliar with Coronado, the island is known for its world-class beaches and with towering palm trees, blue skies and white sand beaches. I snapped this photo while circling around Hotel del Coronado. Despite the crowds, this dune area seemed relatively quiet compared to other parts of the beach and therefore, quickly caught my attention.
Starfish Pendant
Starfish always bring back memories with family road trips from Virginia to New Hampshire. As a child I aspired to be a marine biologist so whenever I spotted a starfish that washed up on the sand, I'd gently place it back in the ocean.
People come to Hotel del Coronado to see and be seen. This beachfront, luxury hotel is the second largest wooden structure in the US and is considered both a National Historic Landmark and a California Historic Landmark. Even if you're not a hotel guest you can still enjoy the sand and surf. There are even upscale shops and outdoor bars to keep you entertained.
Starfish Medallion
Did I mention that I really, really like starfish? This particular piece stood out to me because it takes the shape of a medallion, almost resembling a sand dollar. It's elegant yet stylish, simple yet intricate. This is also one of those day-to-night pieces. It pairs just as well with a pair of jeans as it does with a maxi dress.
Our resort was located on the other side of the island, with a view of the bay. Although Hotel del Coronado was only about a mile away, we felt miles from civilization and that was a stark contrast from the busy streets of New York. Of course, there was plenty of activity in terms of water sports, bike trails and lazy pool lounging but the small community feel was just what we needed for our getaway.
Crab Pendant
While I'm not quite as enamored with crabs as I am other marine life, this particular one looks friendly. I like how the necklace dangles from one of the crab legs because it gives it a different angle than most pieces. This necklace not only makes a statement but it will probably make you and those around you smile.
Early mornings in Coronado are peaceful and quiet. Sometimes the simplest pleasures are the ones we have no control over and this is the perfect example of how the "less is more" mentality is completely true. Not a bad way to start the day.
Seahorse Pendant
Berricle sells a few different Seahorse necklaces but I prefer this one because of the deep blue jewel in place of an eye. The color immediately makes me think of the ocean, especially the crystal blue water of Coronado Island.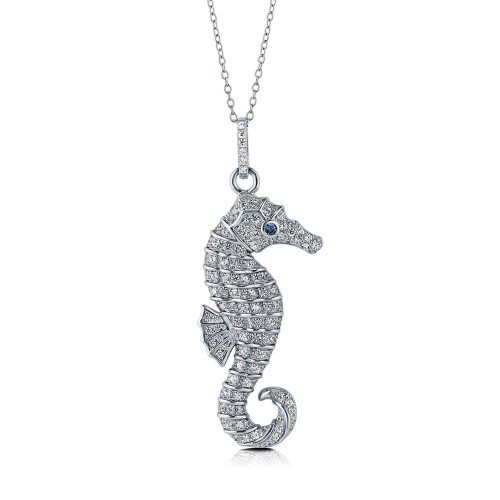 *This post is in collaboration with Berricle. 
Like me on Facebook and Tweet me: @BohemianTrails
Sign up for my free monthly BOHO BLAST!