If you've been following my Instagram feed lately, you've probably seen enough pictures of the Lower East Side to feel familiar with this hip and very trendy neighborhood. The LES was my stomping ground when I first moved to the city in 2009 and I recently moved back to the area – to a different apartment on the same exact street to be exact. Talk about coming full circle!
In case you are planning a trip to New York or if you just want to live vicariously through the hipsters that reside here, I've put together a guide of my favorite places to eat, drink and sightsee.
History
The Lower East Side may have a reputation for putting the hip in hipster but there's actually a lot of interesting history associated with this neighborhood. For a crash course to the LES, visit the Tenement Museum (103 Orchard Street). Your entrance ticket grants you access to 97 Orchard Street where you can see what immigrant life was like in the 19th and 20th centuries. You can also take a guided walking tour of the area to learn more about how the neighborhood has changed over the years.
Indie Culture
It's a good idea to have realistic expectations before walking around the Lower East Side. The streets are grittier than most New York streets, but that's all part of its charm. During the day, the neighborhood is alive with locals eating, browsing through the slew of independent designer shops and innovative art galleries. By night, the area transforms into a hipster hub of concert-goers and bar hoppers.
MUSIC: Arlene's Grocery (95 Stanton Street) is one of the neighborhood's most iconic music venues and for good reason. Band big and small have performed here including The Strokes, The Bravery and AC/DC. Once a Puerto Rican bodega, the rock venue never bothered to change its facade so don't be fooled by its unimpressive exterior. Head to The Living Room (154 Ludlow) to hear singer-songwriters or Pianos (158 Ludlow Street) if you want to dance after listening to techno tunes or indie rockers perform.
FASHION: This isn't Soho, which means the mass-market stores are few and far between. There is, however, a small Steve Madden store on Rivington Street that seems to always have crazy sales. On Orchard Street there are countless vintage shops selling everything from one-of-a-kind garments to old-fashioned jewelry. The Dressing Room (75A Orchard Street) is my all time favorite joint because it's a vintage haven, bar and an emerging designer shop all meshed into one store.
Eat, Drink & Be Merry
With so many music venues and vintage shops doubling as bars, it's easy to see that drinking is a big part of the local culture. As grungy as the Lower East Side is, there are still many bars and restaurants that give the illusion of of sophistication.
HAPPY HOUR: Most of the bars on Ludlow Street offer happy hours but my go-to spot is Verlaine (110 Rivington Street) because they serve up their $5 lychee martinis until 10pm daily and they are delicious. The candlelit restaurant feels strangely posh for the LES but the prices say otherwise.
OYSTERS: Another thing to note about the LES is its close proximity to the East River, which can only mean one thing – oysters! Places like Essex (120 Essex Street), Tiny Fork (167 Orchard Street) and Sebastian (81 Ludlow Street) serve $1 oysters during happy hour. Tiny Fork has the most variety so if you are a huge oyster fan, start there.
BRUNCH: If you feel like pancakes, Clinton Street Baking Company (4 Clinton Street) is a must. Be sure to get there early because there is always a line and you can't make reservations in advance. Essex is my top pick for boozy brunches in terms of price and atmosphere. I also really like Todd's Mill (162 Orchard) and Dudley's (85 Orchard Street) for hearty but healthy breakfast. Vegans will love The Hummus Shop (101 Ludlow Street) and Teany (90 Rivington Street) .
DINNER: For Mexican, head to Barrio Chin0 (253 Broome Street) but not if you are in a rush. The tiny restaurant nearly always has a line but it's work the wait. I also really like Hotel Chantelle's (92 Ludlow Street) rooftop for both the French Mediterranean cuisine and the random performances. I witnessed a jazz performance followed by a burlesque show on the same night. One of my newer discoveries is Cafe Katja (79 Orchard Street) because they serve Austrian cuisine and Grüner Veltliner. Enough said!
DESSERT: I'm not vegan but I adore the cupcakes at Babycakes (248 Broome Street). They make their cupcakes with all-natural, organic ingredients and it really is so much better than the super-sugary alternatives out there. If you do need a sugar rush, I recommend stopping by Creperie (135 Ludlow Street) and indulging in their sweet or savory crepes.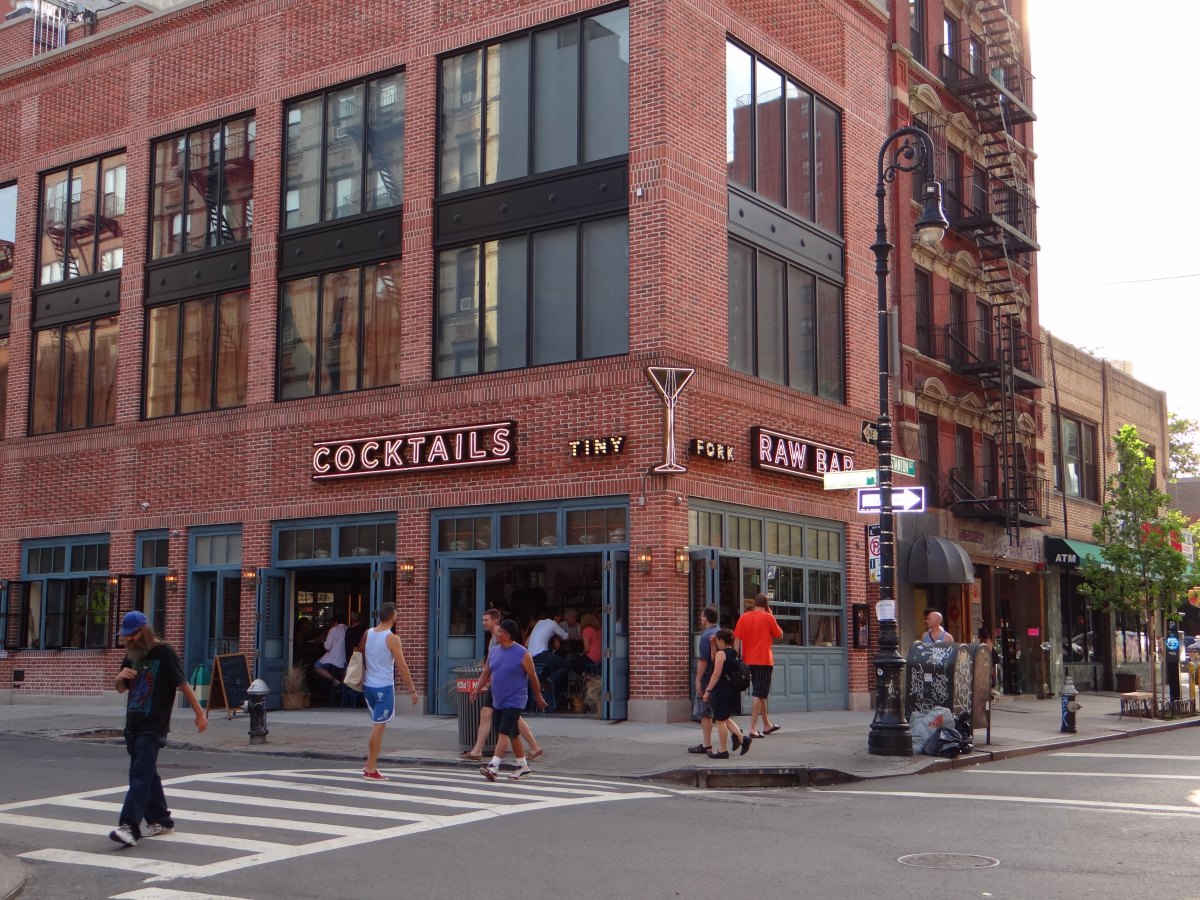 What's your favorite neighborhood joint? Tell me in the comments below! 
Like me on Facebook and Tweet me: @BohemianTrails
Sign up for my free monthly BOHO BLAST!