My time in Finland was short but sweet and I'm already plotting my return. During my week here, I was able to feel as much like a local as possible. From kickbiking around Helsinki to meeting Santa Claus, here are my top five highlights from the land of the Midnight Sun.
Kickbiking Through the City
While seeing a city by bus can be relaxing, I much prefer to breathe in the sights and sounds around me, which is much better when done on foot…or in Finland's case, by kickbike. Known for being one of the most bike-friendly cities, there is little to distract from enjoying your surroundings. Lanes are divided between bikers and walkers and since kickbikes are designed to be a bit of both, we were able to ride in either lane.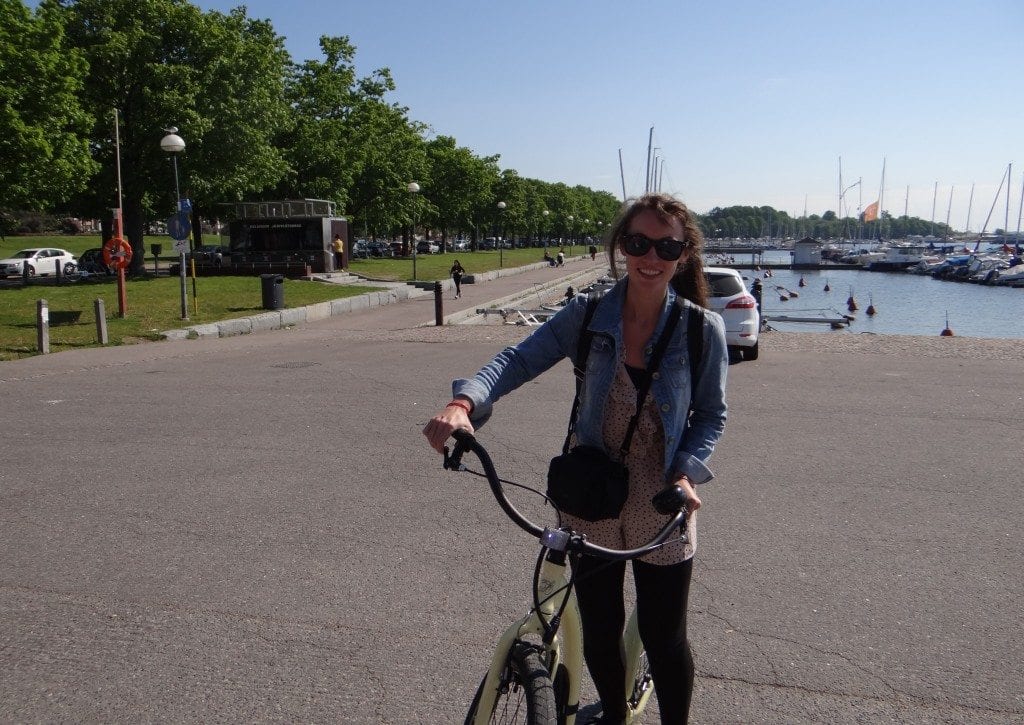 Meeting Santa Claus
A few days into our trip brought us to  Rovaniemi near the Arctic Circle, which of course means Santa Claus' house. Staying at Santa Claus Holiday Village, a complete recreation of how you might imagine the North Pole to look like, I could not help but feel like a five year old again. I remember the immense excitement I felt every Christmas Eve when I imagined Rudolph and the other reindeer flying through the air. Even in the summer time, this is a great place to stay for families and kids at heart.
The Arctic Circle
A visit with Santa is not complete without taking the classic tourist shot next to the Arctic Circle sign. The circle is quite big, dividing itself through Finland, Norway, Sweden, Russia Canada, Denmark, Iceland and our very own Alaska. Marking the southern part of the "Midnight Sun" (Polar Day), this is the reason why Finland has 24 hours of sunlight during this time of year. The opposite of course, is Polar Night in which nightfall lasts for a full day.
Channeling my Lucky Side 
Whenever I see a rainbow my mind goes back to when I was celebrating St. Patrick's Day in elementary school and the little tale about finding a pot of gold at the end of the rainbow. Hardly seeing any rainbows during my 25 years, I saw two within one single week in Finland – three if you could the small second ring shadow that later showed up behind this rainbow. Shining bright, I could distinctly pick out every individual color.
 Partying with Locals via Tram
It's not everyday that you get invited on a "Disco Tram" so there was really no choice but to participate in this nearly four hour, highly amusing excursion. Serving as my last little tour of Helsinki, I drank free beer while cruising through the different neighborhoods and dancing to the techno music blasting from the speakers. As it turned out, I was one of the few non-Finnish people aboard and the ride was organized as part of the World Design Capital year-long celebrations.
Like us on Facebook and Tweet us: @BohemianTrails
Sign up for our free monthly BOHO BLAST!