Heading on a fall getaway this month? Congrats! Whether you're planning a whirlwind weekend getaway or an international trip across the pond, you'll want to make sure your packed and ready to go. Nope, I'm not just talking about making your packing list and checking it twice; I'm talking about the bags themselves. Whenever space allows, I always travel with three bags: one for my laptop, another for my camera and the third for casual brunches or early morning sight-seeing.
Whatever you destination, these five fabulous bags will get you there in style.
For photographers
If you've been following along on my adventures via Instagram, you'll recognize this bag because I'm OBSESSED with it. Lo & Sons' The Claremont is unlike any bag I've ever owned. Available in three leathers, the camera bag is designed to fit and protect a DSLR. There's even internal padding to make sure the camera and lens don't receive any damage.
I opted for the Claremont to store my camera while on the road but I use it at home, too. The outside is made of full-grain leather while the inside is lined with a quilted nylon interior. I've had mine for about 2-3 months and am really impressed by its current condition, despite getting knocked up a handful of times.
For digital nomads
Whether you're a true digital nomad or just like to work on the road like me, a backpack is a must-have. While there's nothing wrong with a clutch or over-the-shoulder tote, I've found that my back feels a lot better when the weight is distributed. Personally, I have a Michael Kors black leather backpack that I picked up last winter at an outlet sale. That said, I'd still pay top dollar for it, because the durable fabric has never failed me.
If you can't splurge on a MK bag, opt for one of Sole Society's vegan bags for women. They have a few different styles, including the one pictured below. Best of all, it's affordable without sacrificing quality.
For 'smart' travelers
Full disclosure – my husband is the CEO of Bluesmart but trust me when I say that I almost always carry with this very smart carry-on. In fact, the last time I didn't, I ended up losing my checked luggage. In short, the Bluesmart is a super lightweight suitcase that is easy to lift into the overhead compartment (which is not easy task for lightweights like me) and it happens to have a handful of tech features to boot.
Weigh your suitcase to make sure it complies with regulations and charge your phone while you wait to board. Truth be told, I don't always remember to charge this baby before every trip but I still use it because it fits a lot and doesn't weight me down.
For weekend getaways
While I only currently own the Lo & Sons Claremont featured above, I also really like their Weekender bag. Officially called The Catalina, it's one of Lo & Sons' more affordable bags, at $120. There are two different sizes to choose from plus plenty of colors, making it easy to customize your bag to your personal style.
What separates this weekender bag from others I've seen is the dedicated shoe section at the bottom. That, coupled with a lightweight canvas material that won't tug too hard on your shoulder, makes this an easy splurge in my book. Plus, since weekend trips are so short, you won't have to unpack if you don't want to; there are enough pockets to keep everything organized.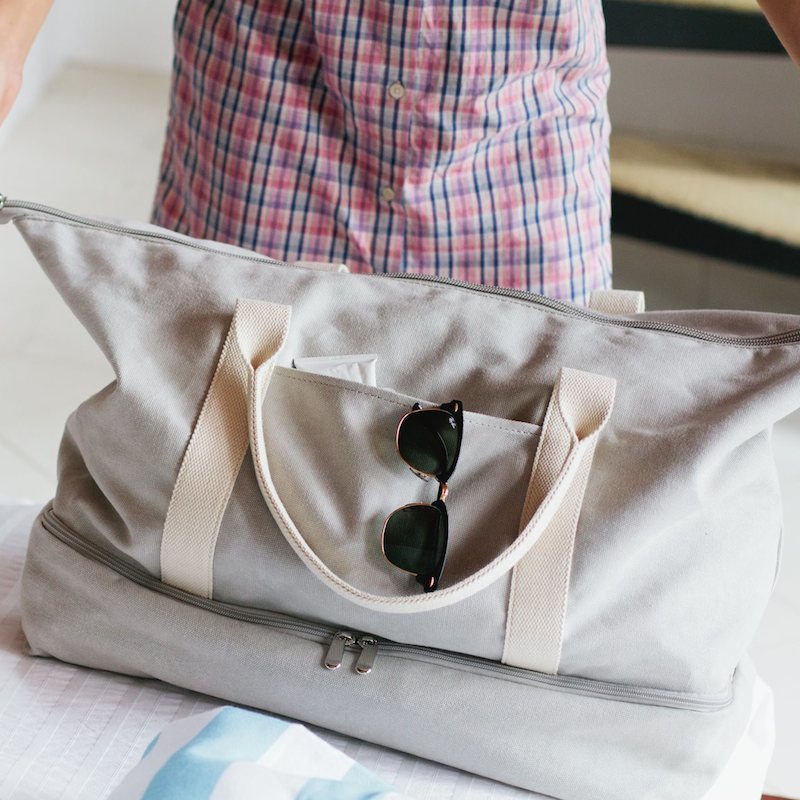 For late nights
Pictured below is a Lo & Sons design but you can get any cross-body bag. I'd opt for black, since it's a chic color that gets along with any outfit. I have a few cross-body bags but the one I travel with most is actually one that my grandmother picked up in Paris years ago. It's black, leather and fits all my essentials: keys, wallet, phone and lipstick.
You might be tempted to pack a clutch instead but I advice against it. I used to bar hop in London with a little bag that swung around my wrist and I consistently left it behind. I was lucky in that people always alerted me of my carelessness but I could have easily lost my bus money home. Safety aside, I find cross-body bags more functional in everyday life, anyway.
What's your travel bag of choice? Tell me in the comments below!
I received a complimentary Claremont bag from Lo & Sons. All opinions are my own.  
Like me on Facebook and Tweet me: @BohemianTrails.
Sign up for my free monthly BOHO BLAST!