Dr. Seuss totally nailed it with his famous "Oh, the Places You'll Go!" story. Little did I know that a weeklong trip to Maui would have be going just about everywhere…including to the bottom of the ocean floor. It's no secret that I'm a Disney fanatic but I'm also a superhero fan as well. Here are a few of my favorite activities that really made me feel super human.
My Jurassic Park Moment
Maybe it was the climactic music as our helicopter ascended into the skies but I could have easily been in a Jurassic Park movie. This was my first helicopter ride and quite honestly, one of the major highlights of my trip. I flew with Blue Hawaiian Helicopters and our pilot was seriously an encyclopedia of sorts. He was so down to earth yet full of information about ocean and plant life, especially Humpback Whales. I've had some pretty cool experiences in my life but I really felt like my six-year old self on Christmas morning. The sensation of flying high in the skies not to mention the valleys and endless ocean that shone below, had me smiling ear to ear.
Riding a Wave
I've mentioned before how I've always wanted to surf and despite my fear of sharks, I figured Maui was the perfect place to give it a shot. Our instructors for the day were Dustin and "Sharky" of Maui Surfer Girls. While Sharky's nickname did little to squash my fear of sharks, it didn't matter because from the moment our lesson began, my nerves were replaced with excitement. After some quick practice on the beach, it was time to hit the waves. Dustin helped me catch my first wave and Sharky was there to drag me back to the water by putting his toe on the top of my board to pull my board along. He later surfed on his head (no joke!)
To be honest, I was not expecting to even stand up on my board but I ended up surfing every wave I attempted, with the exception of the first. If you do end up taking a surfing class in Maui I highly recommend booking with Maui Surfer Girls. The class sizes are small and the prices are very reasonable. Plus, the atmosphere feels open and inviting and it really beats the alternative of huge classes with very little one on one training.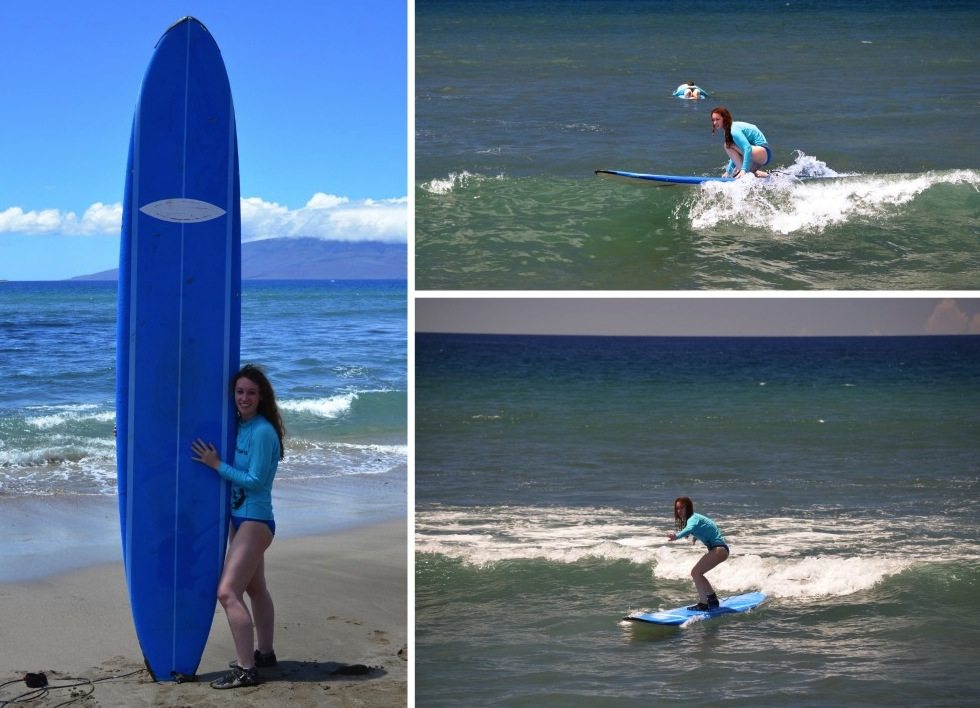 Whizzing down a Volcano
Wherever I travel, I usually try to squeeze in a bike ride. However, nothing would quite prepare me for the three hour downhill bike ride that would ensue. Haleakala Bike Company drove us up Haleakala volcano to 6500 feet and through the communities of Ha'iku, Makawao, and Kula. From here, we had until 4pm to leisurely make it down the volcano to our starting point. The self-guided tour style worked well for me because I had plenty of opportunities to pull to the side of the road and snap some pictures.  And yes, I did have a few road runner moments of racing down the hill!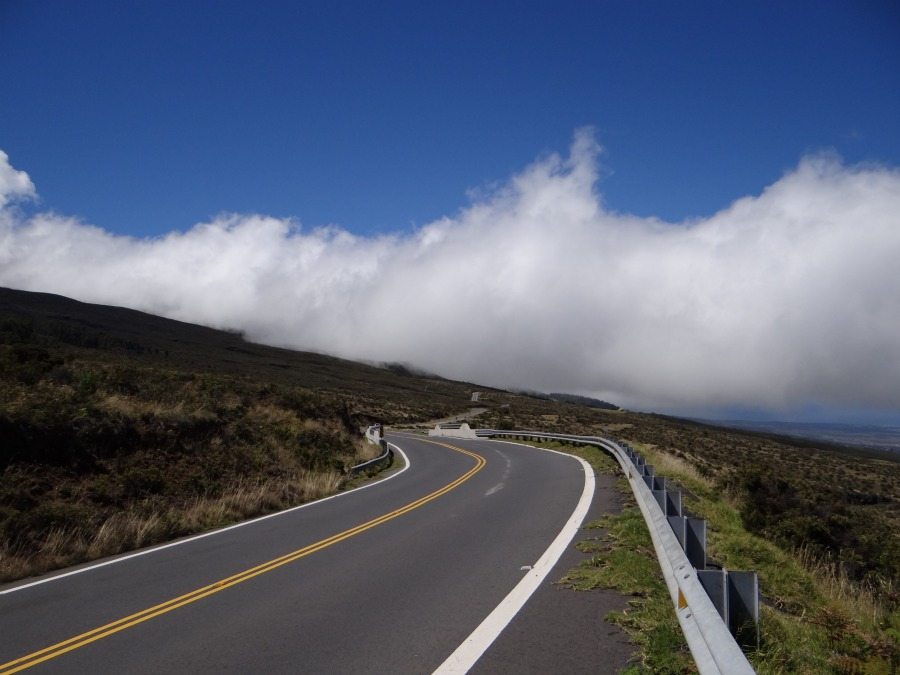 Going Under the Surface
Maui was all about new experiences for me and 100 feet below sea level with Atlantis Submarines was no exception. I felt like Ariel during her "Part of your World" song especially we passed the sunken Carthaginian ship. We were really lucky because we saw a pod of dolphins, which is a rarity for these tours. I also spotted a sand shark and various colorful fish swimming in clusters or playing in the reef. The captain also turns the submarine around to give passengers a 360 degree view.
Walking on Water
After an intense day of surfing, standup paddle boarding felt like a breeze. My lesson was conveniently located right along Kā'anapali Beach, less than a ten minute walk from Kā'anapali Ali'i Resort where I was staying. After paddling for a little on my knees, I stood up and spent the next hour or so paddling along the beach amid other snorkelers. I didn't find it too tricky to stay balanced but I did get an intense upper body workout, especially when I was paddling against the wind or trying to head in a different direction.
Soaring above the Clouds
There's a reason why Superman was my favorite super hero as a kid and why Peter Pan was my go-to Disney movie. Both fictional heroes fly and that is the number one super power I wish I had in real life. On my last day in town I drove about an hour and a half to reach the spot where I'd be paragliding for the first time. Dexter from Proflyght Paragliding was the perfect instructor. His friendly personality and soft-spoken nature eliminated any fears I might have had. That is until we reached the top of the mountain and I checked out the view. Then it hit me that I'd be soaring in the sky at 3,000 feet just moments later.
In reality, Dexter did all the work. I just ran a few steps at takeoff and another few as we were landing. He managed our flight, the roller-coaster twists and turns and the lifts and dips that made me laugh and scream out of pure bliss. The 12-15 minute ride went by in a flash but the adrenaline and feeling that I had actually flown like Peter Pan still hasn't worn off.
What is the coolest thing you've done for the first time while traveling? Tell me in the comments below! 
This trip was hosted by Maui Visitors & Convention Bureau. All opinions are my own. 
Like me on Facebook and Tweet me: @BohemianTrails
Sign up for my free monthly BOHO BLAST!