After three fun-filled days in Bern, it was time to stretch my legs and venture beyond city limits. Luckily, Switzerland is so well connected and Bern so central, that I had many options. Ultimately, though, my growling stomach made the decision for me and before it was lunch time, I was in the heart of the Emmental cheese route feasting on local delicacies.
Basically in Bern's backyard, Emmental has four show dairies from four different eras, all of which are within walking distance of each other. For example, the Küherstock cheese dairy dates back to 1741 when cheese was produced over an open fire (this still happens). Then there's the Feuerwagen cheese dairy from 1900, the village cheese dairy from 1954 and the modern Show Dairy with new production facilities and an on-site restaurant. Here are a few tips to make the most of your culinary trip.
Get an Early Start
From Bern, take the 12-minute train to Burgdorf. From there, it's a short drive (or longer walk) to the show dairies. If you're planning to tackle the cheese route in a day like our group did, I highly suggest getting an early start. There are many points of interest along the route and this way, you can set a leisurely pace without feeling rushed. Speaking of getting around, e-bikes are the way to go. The terrain has hilly sections and having a little extra push (literally) really helps. Even if traveling during off-season, it's best to pre-arrange your e-bike rentals in advance.
Take in the View
Even on a cloudy day, Emmental is effortlessly picturesque. The landscape is hilly, hence another reason why electric bikes are ideal for this terrain. Then there are the lush meadows, quiet forests and bird's eye views of both the Bernese Alps and the Jura mountains. With such peaceful surroundings, it was easy to disconnect from the outside world and simply appreciate the present moment. I was surprised by how naturally I fell into a slower rhythm. If you're traveling with your camera gear, ask for a bike basket. That way, you can stop and snap whenever you please.
Eat Local
There is no shortage of cheese stops along the route but don't skimp on your fruits and veggies, either. Since there is so much farmland in Emmental, this won't be difficult. Our group opted for a home cooked meal at a local farm that doubles as a bed & breakfast property (you can actually sleep in the barn on stacks of hay). There, we stocked up on fresh salad, homemade apple cider and of course, cheese! For a more traditional dining setting, try eating at the show dairy's restaurant. The kitchen whips up regional and seasonal dishes and refreshing drinks. Snag a seat outside in the garden.
Download the App
As old-fashioned as a cheese route may sound, this particular excursion is surprisingly innovative. The Emmental cheese route is an app-based theme path informing about the centuries old tradition of cheese production. In my opinion, the best thing about the entire app is that you don't need a Wi-Fi connection for it to work. Rather, it runs on GPS so it's nearly impossible to get lost. Think of thee app as an in-the-know and on-the-go travel buddy. A couple highlights along the route include a visit to the Show Cheese Dairy in Affoltern, the Jeremias Gotthelf museum in Lützelflüh and the castle of Burgdorf.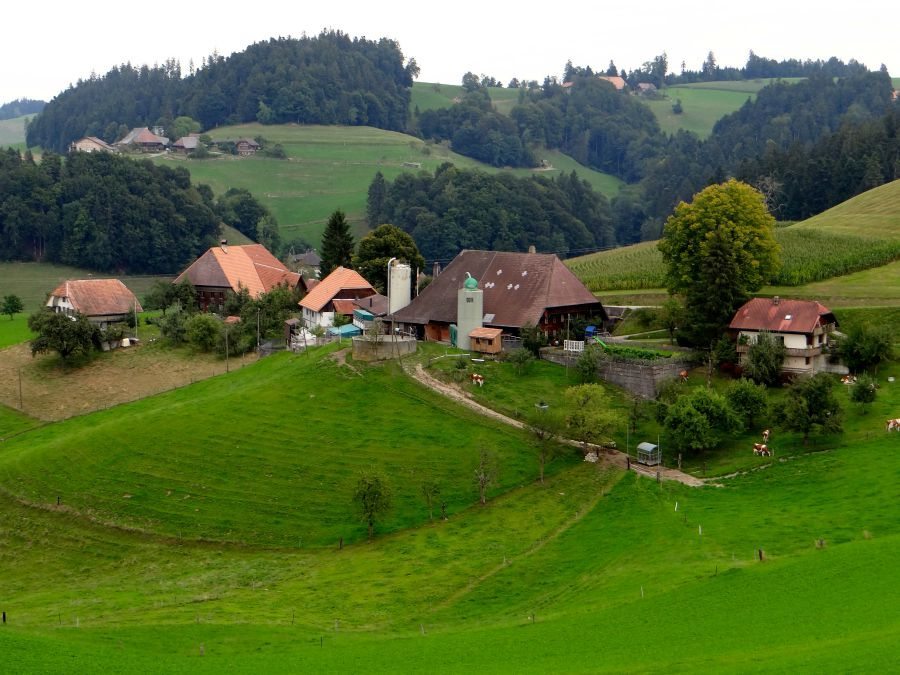 Enjoy the Moment
Even though Emmental is very doable as a day trip, consider making it a weekend getaway, instead. For example, there are many interactive activities like cheese-making classes that simply require more time. I suggest that you define your interests before diving into trip planning mode. For me, I was most interested in the biking aspect of the cheese route so I only made a few stops throughout the day. For others, it might be one of Emmental's other attractions—whimsical castles, wooden bridges and Alpine horn makers' workshops to name a few. Like any destination, the adventure is what you make of it, so make every moment count!
This trip was hosted by Switzerland Tourism. All opinions are my own. 
Like me on Facebook and Tweet me: @BohemianTrails.
Sign up for my free monthly BOHO BLAST!