Just like Jade, I was a bit behind on the blogger curve. I was nominated by Bobbi of Heels and Wheels before I even knew what the Travel Inspirations chain was all about. This is also my first time participating in one of these blogger chain posts so here is my stab at getting it right. For those still clueless, here's a bit of background on the easyJet initiative.
Who: Mickey Mouse
Despite being 25 years old, many times I revel in my days as both a 2 and 5 year old. I've told this particular story before but Mickey Mouse and Disney World Orlando had a lot to do with my travel inspirations. So did Bob Barker from The Price is Right. I'll quickly recap the latter. When I was a kid my sister and I used to sit in front of the TV during the summer and watch The Price is Right. Sometimes, contentants competed for trips all over the world and I couldn't help but become curious about these exotic destinations glimmering through our television.
Now back to Mickey Mouse. I've always been a huge Disney fan but it took getting a fake passport on my first trip to Disney World Orlando's Epcot Center that really inspired me to travel. My Dad saw how excited I became as I visited each of the pretend countries so he bought a fake passport in one of the gift shops and from there I spent the rest of the day getting fake stamps. In many ways I really felt like I was traveling but at the same time I knew that I wasn't. As a result, my travel inspiration deepened.
When: London, Spring 2008
During my junior year in college I decided to study and work abroad. This was actually harder than I anticipated. Double majoring in Psychology and English made it difficult to complete all my classes on time let alone get credits approved across the pond. So what did I do? I took summer classes two years in a row to make my dream possible. I also chose to enroll in a program not affiliated with my school so that I could meet new people and do things my own way.
Spring 2008 in London marked my first time traveling outside the country and in many ways, this was the only real learning experience I needed. Suddenly this small town girl found herself thriving in a big city world and what surprised me the most was how comfortable I felt in the chaotic streets. I also made a point to travel to several other European countries while based in the rainy city.
What: Anonymity
I'm well aware that some people won't agree with me on this but there's something very alluring about the anonymity of traveling to a new destination, starting over and living a life different than your norm. I remember deciding to go by "Meg" rather than Megan when I was in London. It felt so daring to chop off nearly half of my 5 letter name but in reality it was much more than that.
Not that I've every been a controversial or interesting point of conversation, but starting over in a new place was the remedy to my shyness. Suddenly I had the power to do and be anything I wanted. In reality, there was nothing stopping me before, but traveling definitely demonstrated this to me. I felt the same surge of motivation when I moved to NYC jobless and bright-eyed only two weeks after graduating college.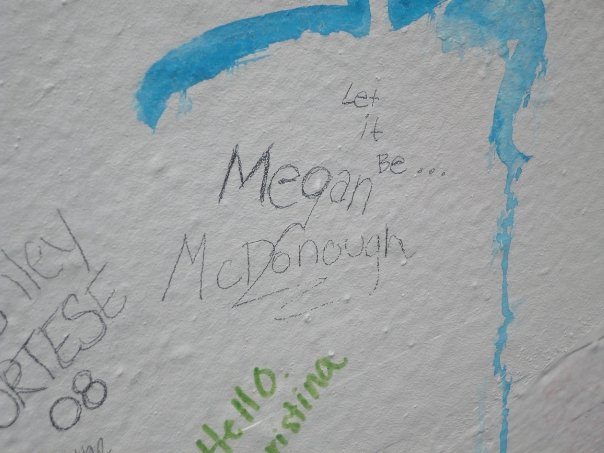 Where: New York City
When I was a child my Dad used to take the whole family on his business trips to the Big Apple. We'd stay at the swanky Marriot Marquis right in the middle of Times Square and we took taxis…everywhere. For a long time I assumed that this was the real New York City and it was simply too crowded and dirty for me. While the crowds and grime haven't lessoned since I moved here myself nearly three years ago, New York continues to be my biggest source of inspiration.
This also goes to show that your own backyard (even if it is a huge global city) can be just as eye opening as traveling half-way around the world. Although I have my days of frustration with the city, New York has quickly become one of my best friends. I love hearing ten different languages on the subway and meeting people from countries I have both visited myself or one day hope to check off my "travel bucket list".
Now it's Your Turn – forgive me if any of you have already done this 🙂
Leave Your Daily Hell
1000 Fights
Bohemian Traveler
Butterfly Diary
Jessie on a Journey
Follow us on Facebook and Tweet us: @BohemianTrails
Sign up for our free BOHO BLAST!