As you might have guessed from my Instagram feed, I pretty much fell in LOVE with Georgia. With lush landscapes, towering buildings and awe-inspiring ancient ruins, you can hardly blame me. Here are 8 things I adore about Georgia plus a few reasons why you should add it to your bucket-list, stat.
Here are 8 reasons to fall in love with Georgia this year!
1) The views are fairy-tale worthy
One of the most rewarding experiences I had in Georgia was reaching new heights…literally! Georgia might be a small country geographically, but there's no shortage of ancient ruins, hilltops and hikes. After touring Tbilisi, we were off to Mtskheta, one of the oldest cities in Georgia and the former capital of Iberia from the 3rd century BC to the 5th century AD. Surrounded by some of the most impressive examples of medieval architecture (not to mention UNESCO listed), it felt like I had traveled back in time and was the queen of my own castle. This was the first of MANY incredible views.
2) It's "Wine o'clock" ALL the time
There were so many highlights of this trip and naturally, many of them revolved around wine! Georgia, the Kakheti region in particular, is considered the birthplace of wine. Similar to France or Italy, wine is a big part of Georgian culture and served at most meals. That said, their wine-making process of using pointed terra-cotta vessels lined with beeswax is uniquely their own, and dates back 8,000 years. With so much practice, no surprise that they've completely mastered this craft. Despite modern advances, many Georgian vintners still use this organic process. 
3) "Sitting pretty" is an art-form
If you can't tell from the smile on my face, I LOVED Tbilisi. As Georgia's capital, Tbilisi is a bustling, lively city boasting ancient ruins and modern architecture. There's a definite "old meets new" theme, with historic monuments mere steps from trendy bars and restaurants. We started our tour in the Old Town, where many of the city's historic monuments are located. For a 360-degree view, take the funicular up the mountain or walk to the 4th century Narikala Fortress which overlooks all of Tbilisi, natural sulphur baths and the Metekhi Church. Don't leave without chasing the waterfall…yes, there's a waterfall!
4) Your photos won't do it justice
Here I am trying to capture the view below and failing miserably. It's not that my pictures didn't turn out well (they did!) but nothing ever compares to the naked eye, does it? This is definitely true of Georgia's lush landscapes, with cascading mountains, rushing waterfalls and winding trails leading to new heights. Instead of heading back to Tbilisi for my final night, I decided to extend my trip to Kazbegi where we hiked to the Holy Trinity Church near the village of Gergeti. It was definitely challenging at times but the view was unlike anything I've ever seen. Oh, and those mountains in the distance? It's Russia!
5) "Winery wandering" is the sport of choice
Let's go back to the wine for a second, shall we? One of my favorite experiences was dabbling in the winemaking process at Twin's Cellar in Napareuli, which doubles as a museum on the history of agritourism. After a brief introduction of the winery, we hit the vines in search of good-looking grapes. Then, it was time to press the grapes and extract the juice. It was amazing to see how much juice can be squeezed from a handful of grapes. We even got to taste the fruits of our labor, no pun intended. Super sweet but oh, so delicious! Cheers to getting your hands dirty. 
6) There are secret gardens…
As if winery wandering wasn't enough, there are lots of "secret" gardens just waiting to be discovered. Many of the wineries and vineyards we visited have are family-run, with ownership being passed down from generation to generation. Of all the wineries we visited, I felt most at "home" at Iago's wine cellar. It was so nice to meet his family, share a flavorful meal and sample their wines. Unlike many of the wineries I've visited in other destinations, Georgian vintners don't mind you feeling at home in their home. I was free to wander the spacious grounds, uncovering secret gardens as I went.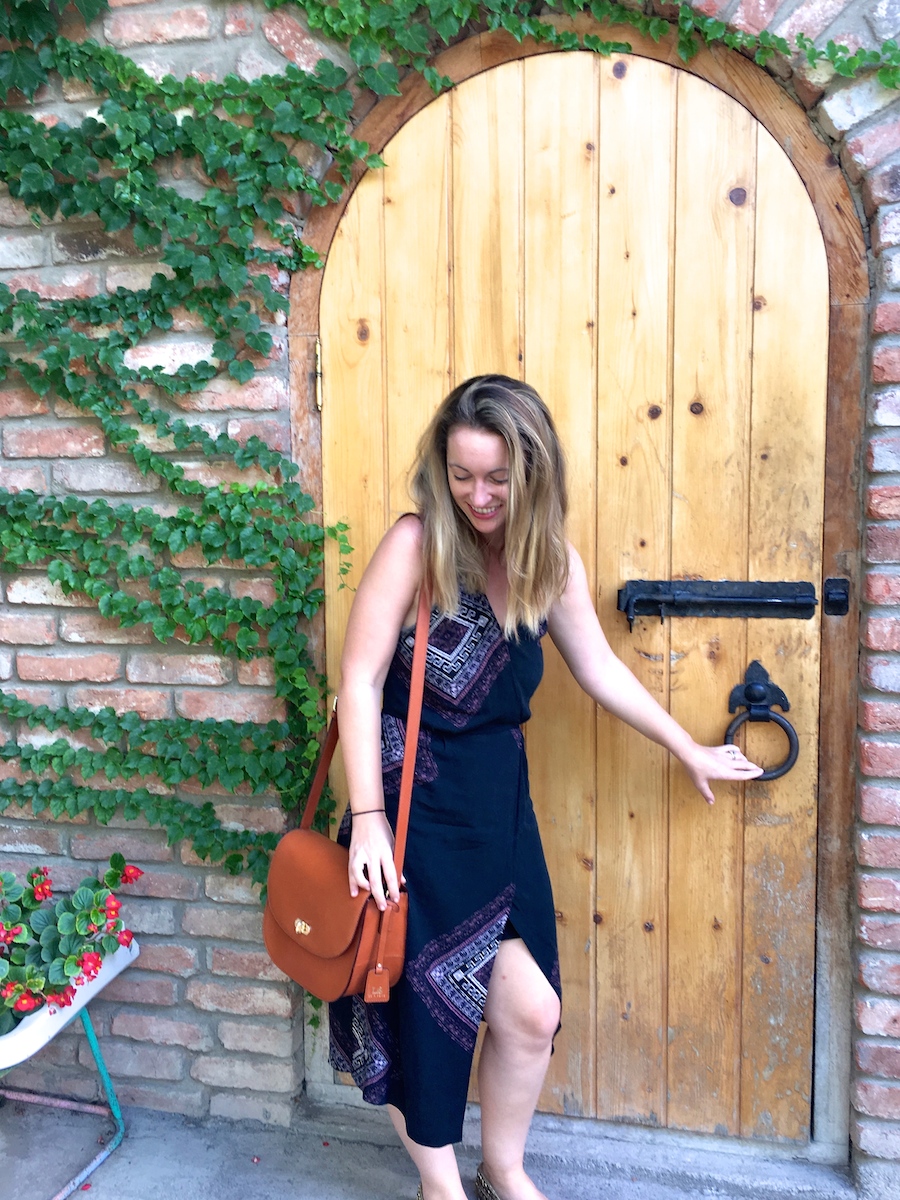 7) ..and caves of wonder!
If you're reading this and thinking of Aladdin, congrats! You know me so well. On day three, we headed to Uplistsikhe, also known as, the Lord's Fortress. It's an ancient rock-hewn town similar in style to to Cappadocia,Turkey or so they say (I've never been). The buildings date from the early Iron Age to the late Middle Ages, and demonstrate the coexistence of Pagan and Christian architecture. There was a lot happening during our visit. In between trying to keep my dress from Marilyn Monroe'ing, I was catching a glimpse at some Bollywood dancers in the distance. That's right! They were filming.
8) Nature knows no bounds
If I had to sum up Georgia in one word it would be nature. We had a pretty packed itinerary that week, and as a result, we were on the road almost constantly. Luckily, there were always scenic spots along the way. Driving from Tbilisi to Kazbegi was especially gorgeous. I snapped the below photo at a lookout-point about three-quarters of the way there. The closer we came the the mountains, the clearer the air became. While Kazbegi is a popular winter ski destination in winter, I quite liked seeing the landscapes covered in lush foliage. Views like these remind me of how small I really am, and there's something so comforting in that.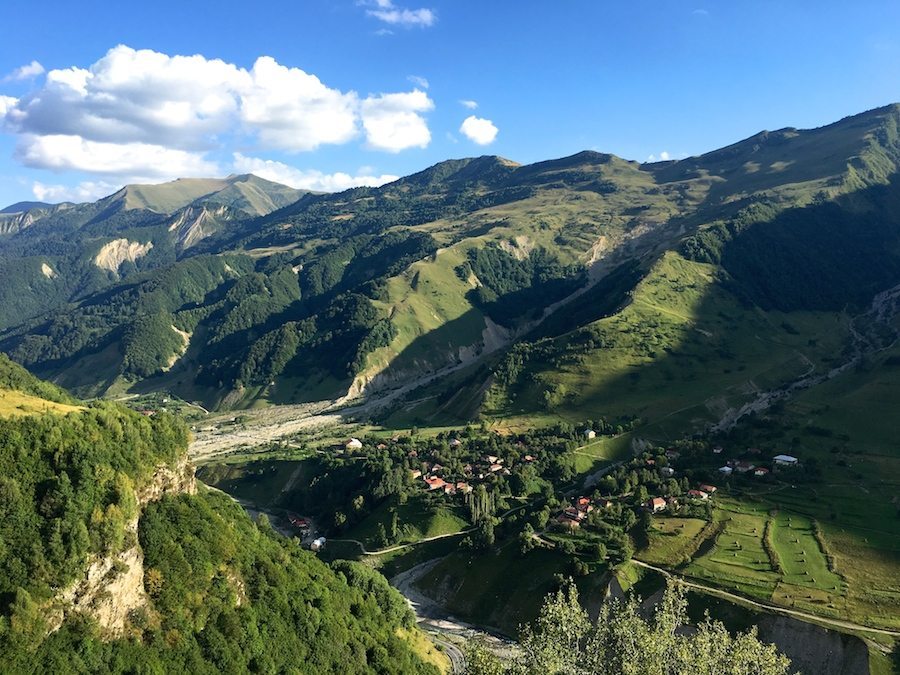 What destination have YOU fallen in love with lately? Tell me in the comments below!
This post is in collaboration with Maximum Exposure and the Georgian Tourism Board. All opinions are my own. 
Like me on Facebook and Tweet me: @BohemianTrails.
Sign up for my free monthly BOHO BLAST!