There have been a lot of articles that tackle the Traveler vs. Tourist argument, including one of our own. I've decided to contribute my own thoughts on the matter by coming up with 5 anti-travel behaviors I aim to avoid.
I'll start off with one of my favorite Travel Quotes: If you reject the food, ignore the customs, fear the religion and avoid the people, you might better stay at home. – James Michener
Not Associating with Locals
During my semester abroad I decided to visit a friend of mine from my high school days who was studying for a year in Sevilla, Spain. I planned on spending most of the weekend with her, but since she was already sick of the tourist traps and I could not pass up a visit to the Alcazar palace, I spent most of my time solo. When we did meet up for some bar hopping on my last night in town I was so excited to speak to some locals. Granted, none of them spoke English and I knew absolutely zero Spanish.
When I asked my friend if she knew any locals who she could introduce me to she responded with a "oh we don't bother with them." Not only did this remind me that I was no longer in High School, but I was shellshocked that she had lumped these interesting people into the boring category. That night I made friends with a few Spanish men and women and we communicated in French. It always amazes me how much of a language rushes back to you when you really need it and of course after a few drinks.
Taking Smiley Photos in Inappropriate Places
On a trip to Munich, Germany with my Mom, I had convinced her to come along with me to the nearby remnants of Dachau which was one of the most severe concentration camps. I figured since we were so close, there really was no legitimate reason why I shouldn't visit the site and learn more about the tragic history that took place there. As soon as I stepped off the bus I immediately felt a negative energy surround me. It bordered on suffocating.
What I couldn't understand was why travelers were jumping up and down and posing next to these horrific torture devices smiling ear to ear. I guess they wanted something to capture the memory but it seemed wrong to me. I personally don't like being in photos at all, but even if you are not as camera shy, I think it's a good idea to recognize when a historic site requires a certain level of respect.
Eating at Fast Food Restaurants
I still remember stepping foot in Venice, Italy. Everything charmed me – the busy streets, the singing gondeliers, and the endless blocks of traditional Italian restaurants. What I wasn't impressed with was seeing a McDonalds in what is one of the most magical and cultural cities in Europe.
Making matters worse was the amount of people actually eating there. I generally try to stay away from fast food restaurants in the first place, as I'm sure we all do, but it just seemed unnatural that a city like Venice would be tarnished by a restaurant chain, let alone a mass marketed fast food company.
If you are on a tight budget and not ready to splurge on a 5 course meal at a trendy restaurant in town, you can still find delicious food from local vendors on the street or in small cafes and bistros. The best meal I had in Italy was actually a slice of pizza from a tiny shop in Venice.
Following Rigid Schedules
No matter how far ahead I used to plan for trips, I was never able to fit everything in and knowing what I missed out on made me view my experience as incomplete. This is not a good way to travel. While doing some research and identifying sites and museums that you don't want to miss out on, sticking to a flexible schedule has worked for me. It allows me to explore a city and go beyond the tourist destinations, meet locals, and gain more perspective on my overall journey.
I've gotten lost in Peru, Argentina, Luxembourg and countless other places, and while I don't always recommend purposely getting lost, it did work in my favor and luckily I have yet to have a shady experience by using this method (knock on wood). Finding a balance between your must-do itinerary and your lets-wander list is a good strategy to stick to while traveling.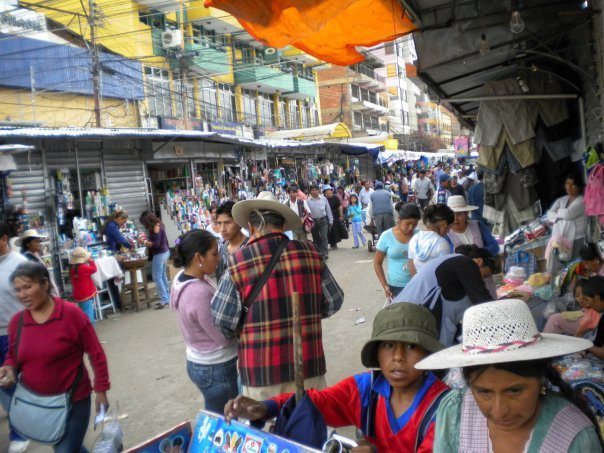 Megan getting lost in Cochabamba, Bolivia
Technology Oversharers
As a travel writer who needs the internet to produce content, I'm still playing a game of tug of war. Before I needed to blog and tweet in real time during a trip, it was easy to get annoyed by travelers who walked into metal poles because they were trying to send their friends back home a picture of them dancing in front of the Louvre. We live in a technological driven society which has its pros and cons but I think it's very important to keep the smart-phone use to a minimim.
I don't understand when travelers are more interested in tweeting a picture than looking at the real thing. For example, when I was in Egypt I saw tourists literally glued to their phones as they tried to locate a signal to email photos back home. They could have done this at a more appropriate time. You can always send a photo but you are not always going to see an Egyptian sunset over the Pyramids.