The irony that I'm finally sitting down to write this post mere days after moving to Brooklyn is not lost on me. Not that I'm a Manhattan snob, because I've been aware of Brooklyn's awesomeness for a few years now, but it's just one of those posts that keeps getting pushed back.
So, in honor of my new Bushwick address, here are five Brooklyn neighborhoods worth a wander. Please note, that these are the ones I'm most familiar with and that there are plenty of other hoods that are quite cool in their own right.
Williamsburg for markets
It's probably no surprise that Williamsburg is the first on this list. The neighborhood has become so popular in recent years that the rents are now just as expensive, if not more, than many Manhattan apartments. There's good reason for the increase though. For one thing, there are a slew of second-hand shops where you can snag designer labels for less. My favorite is Beacon's Closet (recently relocated to Greenpoint) and I'm not alone on that – the franchise has since expanded to a few more locations throughout the city. There's also a fantastic brewery a few blocks from the waterfront, Mast Brothers Chocolate and Brooklyn Bowl to keep you entertained.
The best part of the neighborhood, at least in my opinion, are the weekend markets. Head to Smorgasburg for delicious food from some of the city's top eateries. Many of the vendors offer free samples so technically you could probably just eat your way through those if you're not terribly hungry. If you're starving, definitely splurge on at least one dish and if it's warm out, plan a picnic with friends. The Artists & Fleas market is another great one for vintage enthusiasts. Some of the items are a bit outside of my price range but there are always deals so take your time looking around.
Brooklyn Heights for architecture
Brooklyn Heights is one of the most beautiful neighborhoods throughout New York's five boroughs. Why? Well, it's just across from South Street Seaport, which means it's a short trip to Manhattan and it also has spectacular views of downtown Manhattan. There's a lovely little walkway near the waterfront where families, tourists and local residents exist peacefully. It's always been a posh place to live and not much as changed in that regard.
The area is not terribly busy, but depending on what you're looking for, that can be a very good thing. There are a few restaurants, all amazing yet on the expensive side, but not too much nightlife here. On the other hand, the architecture is stunning. Much of the area was built by bankers and thus, the buildings reflect architecture from the late 1800s and early 1900s. Picture Italianate brownstones, the Brooklyn Bridge in your backyard and the Promenade toward the front. It's sort of feels like you've time traveled to the New York of a hundred years ago.
Bushwick for street art
Ok, so perhaps I'm slightly biased on this one now that I live within the confines of Bushwick but in terms of street art, this is one of the best places to spot some good ones. Bushwick is what you would call up-and-coming. It's not as trendy as Williamsburg although it's getting there. It still feels rather gritty but that's part of its appeal. Surprisingly, or maybe not so surprisingly, I knew about five other travel bloggers who also live in Bushwick and the more I mention it to people, the more I'm realizing that it really is getting a better reputation.
Anyway, back to the street art. One of the best places to spot it is Troutman Street (Corner of St. Nicholas Avenue). I didn't know that this existed until about two weeks ago when I needed to go and sign my lease. I'm glad I arrived early because otherwise I would have been late. There is so much to see here that I plan to go back and snap a few photos for a future post. This outdoor exhibit is called The Bushwick Collective and I highly recommend viewing it for yourself. Otherwise, simply wandering around the neighborhood often yields at least a few murals so keep an eye out for graffiti.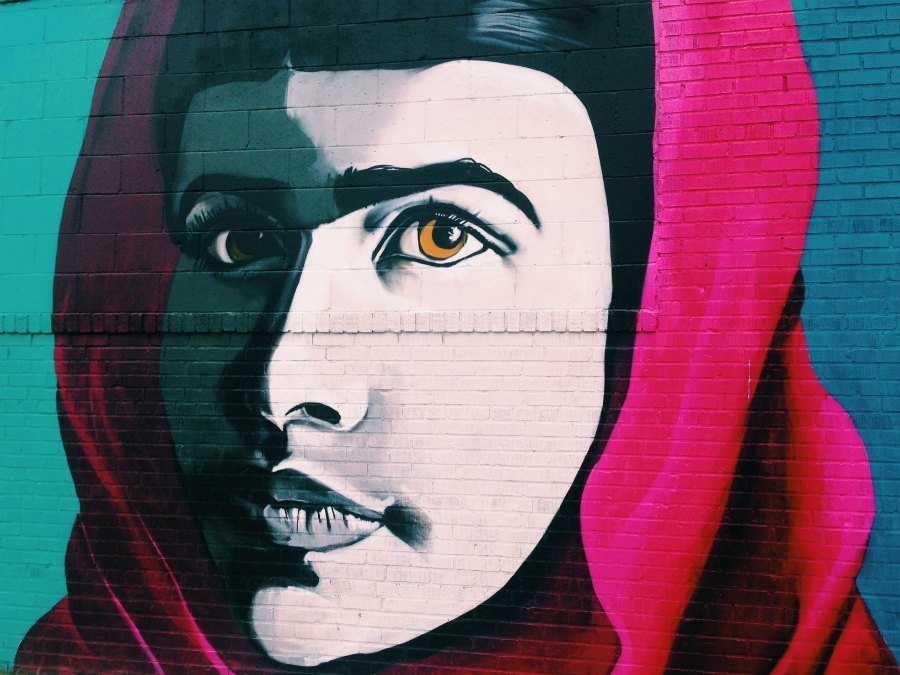 Fort Greene for entertainment
Fort Greene has a little bit of everything and that's why it makes the cut. BAM (Brooklyn Academy of Music), Greenlight Bookstore and Fort Greene Park are three reasons to visit off the bat. I saw The Nutcracker performed at BAM a few years back and really enjoyed heading to a few nearby bars after the show. By day, Fort Greene is perfect for shopping and eating.The neighborhood is well-balanced in every way. Lots of young professionals live here but so do families. Similarly, there's a wide variety of cultural attractions that comes in the form of shopping, eating and mingling with the community.
Head to the Brooklyn Flea to score deals on vintage jewelry and repurposed furniture from a well-curated selection of 150 vendors. Come nightfall, locals are most likely eating at one of the restaurants on Dekalb Avenue (dubbed "New Brooklyn Cuisine") or eco-friendly hotspots like Habana Outpost (closed during winter) or hitting the dance floor. If you're frightened of biking in Manhattan and believe me I'm right there with you, this is a perfect place to give it a shot.
Park Slope for restaurants
I'm not proud of this but it actually took me nearly two years of living in New York to finally venture into Park Slope. Once I did, I always found an excuse to return. The first thing that strikes you is Prospect Park. For whatever reason, it still makes me think of the spacious and well-kept parks in London. Living in New York is not easy, but with the amount of nature that surrounds Park Slope, I can see why people are generally upbeat here.
Besides Prospect Park, there are a few other reasons to visit. As a writer myself, I appreciate that there is a thriving writer community here. In fact, it's one of the most concentrated creative hubs in the city. There are tons of cafes like Tea Lounge where writers are hard at work on their next novel…that or catching up on their Facebook notifications. Either way, it's a cool atmosphere to experience. Secondly, Park Slope has a slew of restaurants ranging from Mexican to Japanese cuisine, not to mention tons of bars and boutiques.
Looking for other Brooklyn neighborhoods to explore? I recommend DUMBO for innovation (tons of start-ups are based here), Cobble Hill or Greenpoint. 
Like me on Facebook and Tweet me: @BohemianTrails.
Sign up for my free monthly BOHO BLAST!
Pin this for later!